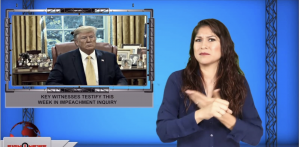 Congress is back in session this week.
But for many lawmakers it's like they never really had a break because they're moving full speed ahead with the impeachment inquiry.
Some past and present members of President Trump's administration are planning to appear before Congress.
This morning former White House official Fiona Hill testified behind closed doors after receiving a subpoena.
Hill, who is not a Trump loyalist, left the administration in June.
Hill is the first former White House official to agree to comply with House Democrats' impeachment inquiry.
House Democrats are hoping Gordon Sondland, the ambassador to the European Union, will do the same Thursday.
The State Department blocked his scheduled hearing last week.
House Democrats also sent a letter to Semyon Kislin, an associate of Trump's personal attorney Rudy Giuliani.
But there's no indication that he will actually show up.