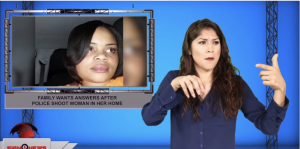 The family of Atatiani Jefferson are outraged and sad.
The twenty-eight-year-old Fort Worth, Texas woman was shot by police through a window while Jefferson was in her home.
It happened around 2:30 Saturday morning when police went to Jefferson's home for a welfare check.
A concerned neighbor called a nonemergency line when they saw the door to Jefferson's home open.
When officers arrived, witnesses say they saw them searching the outside of Jefferson's home.
On the body cam video, you can hear officers yelling "Put your hands up! Show me your hands!"
Then there was a gunshot.
A neighbor says he waited outside after calling please but never heard them identify themselves as officers.
Police later released pictures of what they say was a firearm inside Jefferson's home.
However at a Sunday news conference, a police spokesperson declined to say whether the officer who shot Jefferson believed she was armed at the time.
This is the ninth police involve shooting in 2019 by Fort Worth, Texas police, seven of those were fatal according to the Fort Worth police spokesperson.