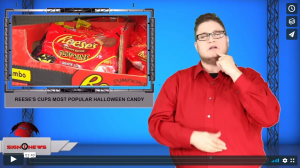 Transcript
Okay… this next story is guaranteed to cause a serious debate in the social media world.
Researchers say they have figured out Halloween's most popular candy.
According to Monmouth University, it's Reese's peanut butter cups.
The university says in a poll, 36 percent of Americans pick the chocolate and peanut butter treat as their favorite Halloween candy.
But there is a catch.
The survey only had eight top selling candy brands to choose from.
The list included Snickers, M&Ms, Hershey bars and candy corn.
My favorite? Twix.
Mm…yum!
Clearly the researchers didn't ask me.
Reese's cups — chocolate and peanut butter? Ewww!
But if I had to pick one of the options from the survey for the best Halloween candy, I would vote for Snickers because when I think of Halloween and devilish laughter, clearly Snickers is a perfect match.
What do you think? What's your favorite Halloween candy? Share your thoughts with us on our Facebook page.