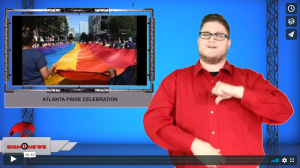 Transcript
Oh and hey!
Immediately after the show ends, I am making a beeline to Piedmont Park here in Atlanta.
Atlanta is hosting his forty-ninth annual pride celebration.
Today is a culmination of a three-day celebration of the LGBTQ community designed to raise awareness, promote unity, visibility and a positive image.
I'm going to join other Deaf and hearing interpreters who will be there.
My Sign1News producer will be following me recording all of the festivities from my perspective.
And we will show you the recap of the celebration in tomorrow's show.
So don't miss it.