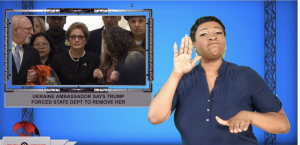 On Friday former US ambassador to Ukraine Maria Yovanovitch defied the Trump administration by testifying before lawmakers on Capitol Hill.
The State Department tried to block her testimony.
She appeared in response to a subpoena by Democratic leaders and provided a stunning allegation.
According to the New York Times, she told lawmakers she was removed from her post by President Trump because of "unfounded and false claims by people with clearly questionable motives."
She was referring to efforts by the President's personal lawyer Rudy Giuliani.
She said: "I don't know Mr. Giuliani's motives for attacking me. But individuals who have been named in the press as contacts of Mr. Guiliani may well have believed that their personal financial ambitions were stymied by our anticorruption policy in Ukraine."
She was talking about Lev Parnas and Igor Fruman, two of Giuliani's associates who were indicted Thursday for trying to use political contributions in order to get her fired.
Yovanovitch was known for her anticorruption work and she is the latest in a string of key interviews.
On Monday former White House Russia advisor Fiona Hill is set to testify.
She is someone who had a pivotal role in the President's dealings with Ukraine.
Also next week, EU ambassador Gordon Sondland, who was blocked by the White House last week from being deposed, is expected to now show up under subpoena.