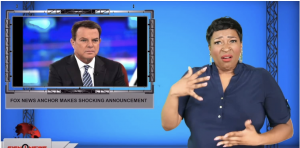 Many Fox employees say they were completely shocked when Chief news anchor Shepard Smith announced he was stepping down and leaving after more than twenty years with the network.
He made the announcement Friday afternoon during his newscast.
Because his contract is not up yet, rumors immediately started swirling that there was some sort of rift between Shepard and Fox management.
But both sides say the parting was amicable.
Smith has a noncompete clause in his contract, which means he won't immediately pop up on another network like CNN or MSNBC.
But there is rampant speculation that he will eventually be hired by another network.
Fox officials say a rotating schedule of anchors will feel the 3 PM timeslot until a permanent replacement can be found.
But the exodus from Fox may not end with Smith.
Several employees say staffers were openly weeping at the news of Smith's departure and revealed the only reason they stayed with the network was because of him.