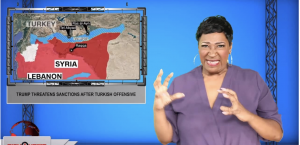 A senior State Department official tells CNN President Trump is pushing to see if a cease-fire can be reached between the Kurds and Turkey.
The move comes a week after Trump made the decision to leave the Kurds open to Turkish attacks when he pulled US troops from the area, a decision that was strongly criticized by both Republicans and Democrats.
In that time Turkish officials say its military offensive is "going successfully as planned" and they claim to have killed 2,200 "terrorists," referring to Kurdish fighting forces.
Airstrikes and artillery fire have been relentless.
And the Turkish offensive has displaced about 60,000 Kurdish people from their homes.
That number could double over the next few days.
But now the Trump administration may be taking actions to halt the Turkish advance.
He told reporters sanctions against Turkey may be an option but he wants to let the situation play out to see what happens.