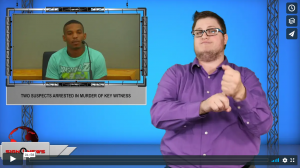 Transcript
Police have arrested two of three suspects in the killing of 18-year-old Joshua Brown.
Brown was a key witness in the murder trial of former Dallas police officer Amber Guyger.
Officals say Brown was shot and killed during a drug deal gone wrong at his apartment complex.
Three men from Louisiana had met Brown in Dallas for a drug deal purchase.
Police identified the three suspects as Thaddeous Green, Jacquerious Mitchell and Michael Diaz Mitchell.
During the alleged drug deal, an argument occurred between Brown and Green, which led to a physical altercation.
Brown allegedly shot and wounded Jacquerious Mitchell.
Green then fatally shot Brown twice.
Up until Tuesday, only Jacquerious Mitchell, who was hospitalized, was in custody.
On Tuesday evening, Michael Diaz Mitchell was arrested in Louisiana.
Officials say there are speculations and rumors among community leaders that Brown's killing was related to Guyger's case.
On Tuesday, a Dallas police official said the killing was not related to Brown's testimony in Guyger's case.