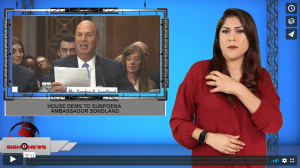 Transcript
As part of their impeachment inquiry, House Democrats say they will now subpoena U.S. Ambassador to the European Union Gordon Sondland to testify.
Tuesday the White House blocked the key witness from testifying before Congress in the Democrat's impeachment probe.
Sondland was scheduled to testify before three House committees in a closed-door meeting.
Sondland was involved in text messages turned over to the House Intelligence Committee last week regarding the Ukraine controversy.
The messages show how a potential Ukrainian investigation into the 2016 election was linked to a desired meeting between Ukrainian President Volodymyr Zelensky and President Donald Trump.
Sondland was also mentioned in the whistleblower complaint for allegedly giving advice to Ukrainian Leadership about navigating demands Trump made of Zelensky.
Meanwhile, extreme measures are being considered to protect the identity and safety of the whistleblower.
It's still not clear if the whistleblower will end up talking to the House Intelligence Committee.
But in the case that does happen, measures being discussed include using an off-site location, limiting House Intelligence staff and members who would be present and disguising the individual's image and voice.