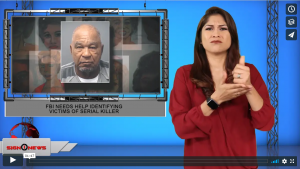 Transcript
The FBI is asking for help solving the crimes of a man they say is responsible for more deaths than any other serial killer.
Last year, 79-year-old Samuel Little confessed to strangling 93 victims between 1970 and 2005.
Little often targeted women of vulnerable groups, many who were involved in prostitution or suffering from a drug addiction.
Little was convicted in 2014 and is now serving three life sentences in California.
Law enforcement so far has verified 50 of the confessions, but want the public's help in dozens of other cases.
The FBI says that the bodies sometimes went unidentified, and the death never investigated.
They've released information about five cases on the agency's website.
Authorities are hoping that someone may remember a detail that could further the investigation.
Each case presented is accompanied by video of Little explaining the incident and a hand-drawn photo by little of the woman.
The FBI believes all of his recollections are credible.
Little did not seem to express any remorse in his confessions.