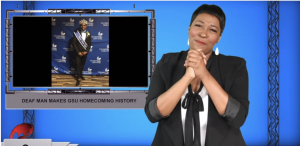 We want to send a big congratulations to Georgia State University student DeMarco Pittman.
Last night he became the first black Deaf man to be voted into the school's royal homecoming court.
Check out some of the pictures he sent.
Demarco is earning a degree in middle grades education.
He says he was shocked when he found out he beat out seventy-three other applicants and was selected as the final sixteen, eight men and eight women, to represent the royal court.
And he is truly honored to be part of GSU history and promises to work hard to give back to the community.
Congratulations DeMarco!