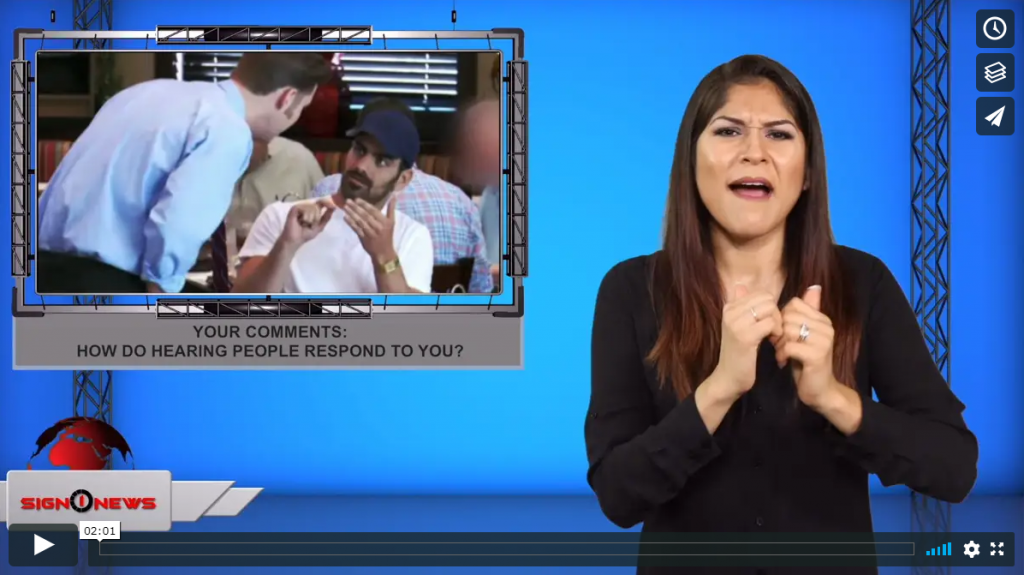 Transcript

Earlier this week we asked you, our Sign1News viewers, how do hearing people respond when they realize you're Deaf? And then what is your response?
The question stemmed from the recent episode of the popular ABC series "What Would You Do?"
Deaf activist, actor and model Nyle DiMarco pretended to be a customer at a restaurant interacting with a hearing actor pretending to be a waiter.
Here are a couple of your comments:
Leigh Ann Cowan says "If I'm out with other people, when the waiter figures out I'm Deaf, they immediately start to ignore me to ask my friends or family what I want. If I'm by myself, I type my order on my phone. Most waiters are fine with that but sometimes others are annoyed."
And Sean Fortine says "I can't explain why hearing people react so differently to sign language than they do to someone that only speaks a foreign language. I can't explain why it's so hard to get people, including some people I know, to work with me a little to have a conversation in English rather than getting frustrated. Most people won't change but you can forgive and educate those willing to learn."
Great responses Leigh Ann and Sean.
Thanks for sharing.