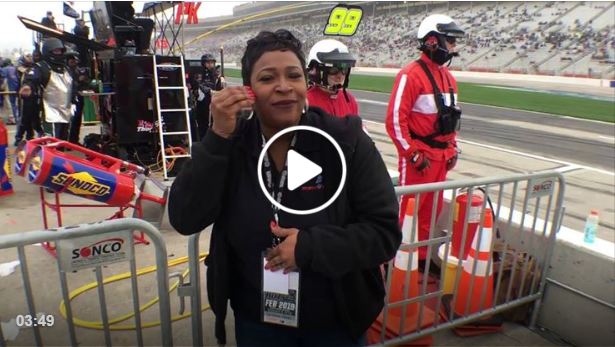 TRANSCRIPT
IF YOU'VE EVER WONDERED HOW NASCAR GOT STARTED YOU HAVE TO GO ALL THE WAY BACK TO THE 1930s.
IT STARTED DURING THE ALCOHOL PROHIBITION ERA WHEN DRIVERS WOULD TRY TO OUTRUN THE COPS WHILE DELIVERING ALCOHOL.
LATER ALCOHOL BECAME LEGAL AND THE ORGANIZED BODY CALLED NASCAR SPRUNG FROM THAT.
NOW HERE ARE A COUPLE OF NEWS STORIES MAKING HEADLINES TODAY.
HERE IS A REALLY AMAZING STORY OUT OF TAMPA, FLORIDA.
BACK IN DECEMBER FIREFIGHTER WESLEY STEVENS WAS ELECTROCUTED WITH A 2,000 VOLT SHOCK.
ACCORDING TO PARAMEDICS STEVENS HEART STOPPED BEATING FOR 17 MINUTES.
HE WAS TECHNICALLY DEAD.
BUT A SHERIFF'S DEPUTY WAS ON ANOTHER CALL NEARBY AND WAS ABLE TO GET TO STEVENS QUICKLY TO PERFORM C-P-R TO KEEP HIS BLOOD FLOWING, WHICH ALSO KEPT HIS BRAIN GOING.
STEVENS WOKE UP IN THE HOSPITAL 2 DAYS LATER.
A FEW DAYS AFTER THAT STEVEN AND HIS WIFE WELCOMED A NEW BABY BOY INTO THE WORLD.
AND NOW STEVENS IS BACK ON DUTY WITH THE FIRE DEPARTMENT.
A TRULY HAPPY ENDING.
IF YOU'RE A NEW DAD BUT YOUR COMPANY DOESN'T OFFER PATERNITY LEAVE, THE SOAP MAKER "DOVE" HAS STARTED A PATERNITY LEAVE FUND.
OVER THE NEXT TWO YEAR, THE COMPANY WANTS TO RAISE 1-MILLION DOLLARS FOR DADS ACROSS AMERICA.
NEW FATHERS WILL BE GIVEN 5-THOUSAND DOLLAR GRANTS SO THEY CAN BE HOME TO SPEND TIME WITH THEIR NEW CHILDREN.
DOVE HAS ALSO CREATED A PLEDGE FOR WORKING MEN AND FATHERS TO SIGN TO COMMIT TO HELPING COMPANIES PROVIDE PATERNITY LEAVE TO NEW DAYS.
SIGNING THE PLEDGE IS A REQUIREMENT FOR THOSE WHO WISH TO RECEIVE THE GRANT.
OTHER BIG COMPANIES LIKE STARBUCKS, LOWE'S, CVS, DOLLAR GENERAL AND WALMART HAVE EXPANDED THEIR FAMILY LEAVE POLICIES TO INCLUDE WORKING DADS.
CRYSTAL WILL JOIN US A LITTLE BIT LATER WITH MORE NEWS STORIES TO SHARE.
SEE YOU LATER.