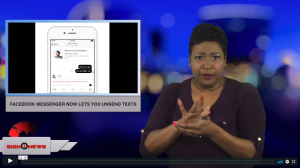 Transcript
Has this ever happened to you?
You send a tweet and immediately regret it.
Now Facebook messenger users have the power to unsend texts but they have to be quick about it.
The feature, which began rolling out Tuesday, allows users to delete a message within 10 minutes of sending it.
To use it, users tap on the message then select the option to "remove for everyone."
The message will then be replaced by a text alerting recipients and senders that it was removed.
Sign1News delivers news for the deaf community powered by CNN in American Sign Language (ASL).