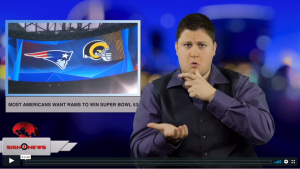 Sign1News delivers news for the deaf community powered by CNN in American Sign Language (ASL).
Transcript
Who are you rooting for in Super Bowl LIII?
Well if you're rooting for the New England Patriots, you are in a very small group.
According to a new poll released on Twitter data, most of the country is tired of seeing the Patriots win.
They want to see the LA Rams win it all.
But here's what's interesting.
If you look at the map, it's no surprise that most of New England is rooting for the Patriots.
But check out the one state in the deep South that's also rooting for the Patriots big time.
That one blue area at the bottom is New Orleans, Louisiana.
Remember the Saints lost to the Rams in a very controversial NFC Championship game so the Saints are hoping the Patriots get some payback for them.
What about you? Who are you rooting – the Rams or the Patriots?
And what do you do if your spouse or best friend is rooting against the team you want to win?
I'm rooting for the Rams.
It's about time they won it all.
I just found out my best friend is rooting for the Patriots. I was shocked.
I told her lucky for her that won't tear us because I love her.