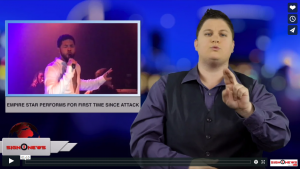 Sign1News delivers news for the deaf community powered by CNN in American Sign Language (ASL).
Transcript
'Empire' actor and musician Jussie Smollett told police last week he was beaten by people yelling homophobic and racist slurs at him.
Last night Smollett performed publicly for the first time since his alleged attack.
The actor tearfully told fans at West Hollywood's Troubadour club that he is not fully healed but he's okay.
He also told fans he wants to clarify that following the attack, he was bruised but his ribs were not cracked or broken.
He also said that he went to the doctor immediately but he wasn't hospitalized as has been reported.
Smollett thanked the more than 300 people that attended his event and then very defiantly said "I had to be here tonight! I could let those [beep] attackers win!