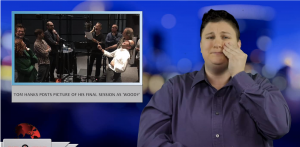 Sign1News delivers news for the deaf community powered by CNN in American Sign Language (ASL).
Transcript
Get your tissue box ready.
Pixar's "Toy Story 4" is already tugging at heartstrings.
Tom Hanks posted this video on Twitter showing his last day recording lines as Woody, star of the Toy Story films.
The actor captioned the picture by using famous lines from his character.
He wrote: "Final line, final session as Woody of Toy story 4. We rode like the wind to infinity and beyond."
"Toy Story 4" is scheduled to hit theaters June 21.