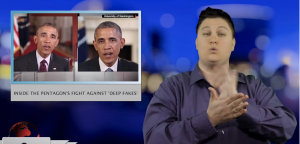 Sign1News delivers news for the deaf community powered by CNN in American Sign Language (ASL).
Transcript
Take a look at these two videos of former President Barack Obama.
Can you tell which one is real and which one is fake?
Okay how about this one?
If you picked the man, you're wrong.
Researchers at Stanford University transferred the expression, head position and eye gaze from the man and applied it to the woman.
They are called deep fakes, videos that look so real it's hard to tell what's fake.
And lawmakers are now warning about deep fakes on social media because most are designed to mislead, manipulate, confuse and cause anger in everything from business to foreign policy to politics.
In the year since the 2016 election campaign, experts have seen fake after fake after fake including photos of Hillary Clinton and Donald Trump meant to stir anger, motivate or depress one side or the other.
Many of those deep fakes are shared tens of thousands of times.
Officials with the Pentagon are trying to stay one step ahead of deep fake technology by using artificial intelligence to teach computers the telltale signs of a fake.
And the clock is ticking.
The 2020 elections are just around the corner.
Oh by the way the answer to the Obama deep fake video?
The one on the right is fake.