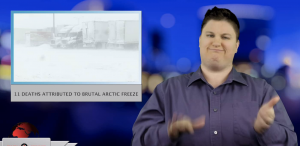 Sign1News delivers news for the deaf community powered by CNN in American Sign Language (ASL).
Transcript
Officials say 11 people have died as a result of the brutally cold temperatures blanketing 70 percent of the country.
In Michigan the body of a 70-year-old man was found frozen outside his Detroit home.
Authorities say it is not clear why the man was outdoors.
Officials in Iowa say there have been four deaths there this week, including the discovery of a University of Iowa student who was found dead at 4 AM behind the campus recreational facility.
The temperature in Iowa city at that time was about 21 below zero.
Authorities say storm-related deaths have also been reported in Illinois, Minnesota, Indiana and Wisconsin.
But relief from the cold is coming for many parts of the country by the weekend.
For example forecasters say Chicago will see a temperature rise of almost 75 percent by Monday.
And here in Atlanta the low temperatures have been hovering in the 20s most of the week.
But by Super Bowl Sunday the temperatures will be in the 60s.