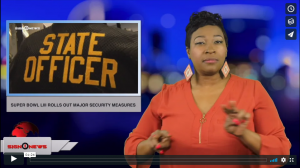 Transcript
Today local, state and federal law enforcement officials held a press conference to address the intense security surrounding Super Bowl LIII.
Fans can expect to see an obvious increase in police, military and K-9 patrols with the Secret Service behind the scenes.
Officials say is also important for fans to be aware of their surroundings at all times.
Also to make sure criminals are not exploiting the most vulnerable among us. We are conducting proactive trafficking enforcement operations as we speak. Thank to our efforts we've already rescued four victims and made 33 arrests and have trained state and local business entities to spot the signs of trafficking. As I close I want to emphasize while DHS employees worked tirelessly to secure this event, fans continue to be our greatest resource to ensure a safe and secure game day. They serve as the eyes and ears of the public safety officials supporting Super Bowl LIII. Public safety is everyone's responsibility and we need the public to remember: if you see something, say something.
Sign1News delivers news for the deaf community powered by CNN in American Sign Language (ASL).