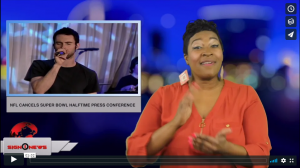 Transcript
Sign1News had also planned to attend tomorrow's Super Bowl press conference with halftime performers Maroon 5 and rappers Big Boi and Travis Scott.
Typically the artist performing during Sunday's game would meet the press on the Thursday before to discuss their performance and tease what's to come.
But late last night the NFL canceled the press conference.
The NFL issued a statement Tuesday saying "the artists will let their shows do the talking."
This year's halftime performers have received criticism for agreeing to perform because of the NFL's position on former quarterback Colin Kaepernick's decision to kneel during the national anthem.
Other artists including Rihanna and Cardi B reportedly turned down the gig in support of Kaepernick.
Sign1News delivers news for the deaf community powered by CNN in American Sign Language (ASL).