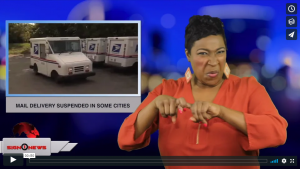 Transcript
The winter storm affecting hundreds of millions of people is prompting the postal service to suspend delivery operations in 10 states.
The USPS on Tuesday released an updated list of states where it's suspending deliveries due to the so-called "polar vortex."
The list includes Minnesota, Wisconsin, Iowa, Illinois, South Dakota, North Dakota, Eastern Montana and parts of Missouri, Kansas and Nebraska.
Retail operations at local offices will be available but may be limited.
Sign1News delivers news for the deaf community powered by CNN in American Sign Language (ASL).