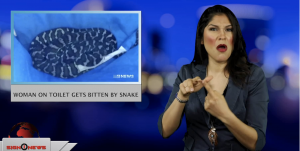 Sign1News delivers news for the deaf community powered by CNN in American Sign Language (ASL).
Transcript
Helen Richards from Australia says she was minding her own business, doing her "business" when she felt a sharp painful tap on her butt.
The tap was a bite from a python hanging out inside the toilet.
After recovering from her fright Richards pulled up her pants, shut the toilet lid and called professional snake handlers.
Richards was treated with antiseptic spray and is going to be okay.
But she says she will never use the toilet again without looking in the bowl.