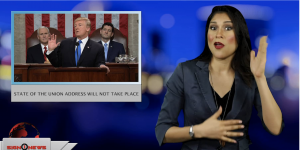 Sign1News delivers news for the deaf community powered by CNN in American Sign Language (ASL).
Transcript
According to an aide to House Speaker Nancy Pelosi, President Trump's state of the union address will not happen Tuesday.
Even though Trump announced on Friday that there was a deal to end the partial government shutdown, Pelosi said there were still no plans for the State of the Union.
Trump's director of strategic communications Mercedes Schlapp said the White House has been in discussions with Pelosi's office about rescheduling the address and that there should be a response soon.