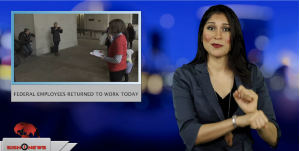 Sign1News delivers news for the deaf community powered by CNN in American Sign Language (ASL).
Transcript
Federal employees are back on the payroll…at least for now.
Today hundreds of thousands of workers returned to work after being furloughed for more than a month.
On Friday lawmakers passed a spending bill that will guarantee back pay for workers affected by the shutdown.
But it could take a few days before the paychecks are sent out.
Many federal employees are happy to receive the money but they are nervous as well because the spending bill only funds the government until February 15.
If lawmakers don't agree on a deal in the next three weeks, the government could be shut down again.