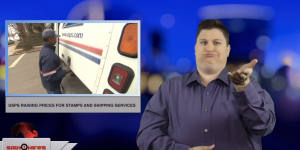 Sign1News delivers news for the deaf community powered by CNN in American Sign Language (ASL).
Transcript
This is an exciting week in the city of Atlanta.
We are exactly one week away from Super Bowl LIII and Sign1News will be bringing you several stories this week leading up to the big day.
The Los Angeles Rams and the New England Patriots have already put in their final practices in their respective cities.
Today they boarded planes headed to Atlanta where they will began practicing here for Sunday's game.
Sign1News will be sharing with you interviews with the players and coaches as well as access behind-the-scenes.
Stay tuned.