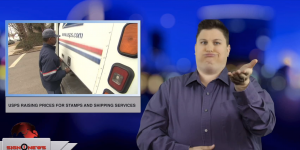 Sign1News delivers news for the deaf community powered by CNN in American Sign Language (ASL).
Transcript
The US post office is raising prices on stamps and services.
Starting Sunday a first-class 1 ounce mail letter will go up to $.55.
The nickel increases is the largest percentage hike since 1991 when postage increased from $.25 to $.29.
Forever stamps are also jumping to $.55 and priority mail prices will also jump 5.9 percent, making a small box that previously cost $7.20 to rise to $7.90.
The post office lost nearly $4 billion in 2018 reportedly from lower mail volume and pension and health care costs.