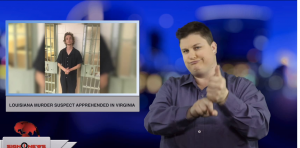 Sign1News delivers news for the deaf community powered by CNN in American Sign Language (ASL).
Transcript
Yesterday police say 21-year-old Dakota Theriot shot and killed five people in two Louisiana parishes.
Authorities say he killed his girlfriend, her father and her 17-year-old brother in their home then headed to his parents' home and shot and killed them.
When police arrived at his parents' home both victims were still alive.
Deputy say Theriot's father identified him as the shooter before they died.
Theriot had been living with his girlfriend's family for several weeks but recently have been asked to leave and not come back.
Authorities believe that may have triggered the shooting rampage.
Today Theriot was captured in Richmond Virginia.
No word on what specific charges he now faces or if he has a lawyer.