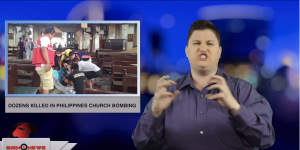 Sign1News delivers news for the deaf community powered by CNN in American Sign Language (ASL).
Transcript
At least 20 people were killed and 80 wounded in two bombings at a Philippine cathedral.
The bombings happened in the Mindanao region.
According to police the first bombing was inside the Jolo cathedral.
The second targeted nearby soldiers who had rushed to help the victims from the first explosion.
The Mindanao region has been plagued with violence between Muslims and Christians for decades.