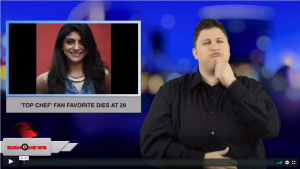 Sign1News delivers news for the deaf community powered by CNN in American Sign Language (ASL).
Transcript
Fatima Ali died Friday after a year-long battle with brain cancer.
She was 29 years old.
She was a fan favorite of last year's season of Bravo's "Top Chef."
The Pakistan native was known for her fun personality and excellent cooking.
She was also a contestant on the Food Network show "Chopped" in 2012 and won.
Ali was diagnosed with cancer at the end of 2017.
She had surgery in 2018 and doctors declared her cancer-free.
But according to Ali the cancer came back with a vengeance last October and she was given one year to live.
She died three months later.