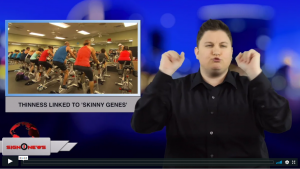 Sign1News delivers news for the deaf community powered by CNN in American Sign Language (ASL).
Transcript
It's easy to criticize people for being overweight.
In fact for years people have assumed that a person is overweight because they are lazy or lack willpower.
But a new study is challenging that idea.
In the study researchers found thin people have specific gene regions in their DNA keeping them slim while also having fewer gene variants linked to being overweight.
Of course researchers noted there are a lot of other factors besides genetics involved such as diet and exercise.
But bottom line: researchers say the study proves we have far less control over weight than we might think.
If you want to read the study you can find it in the journal "Plos Genetics."