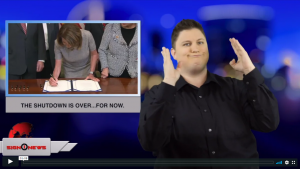 Sign1News delivers news for the deaf community powered by CNN in American Sign Language (ASL).
Transcript
The longest government shutdown in US history is over…for now.
After disagreeing for five weeks the President and Democratic leaders have come to a temporary deal.
The short-term spending bill is only good for 21 days and it does not include funding for the President Trump's border wall.
Republicans and Democrats now have until February 15 to come up with a resolution or risk sending the country back into a shutdown and 800,000 workers back on furlough.
Sources close to the President say it was the nation's airports reaching near crisis status that caused the President to agree to the temporary deal.
Republicans agree it was a good call on his part.