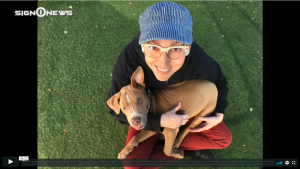 Sign1News delivers news for the deaf community powered by CNN in American Sign Language (ASL).
Transcript
Recently Sign1News flew to Phoenix, Arizona to do a story on the Maricopa County Animal Care and Control shelter.
We thought it was just going to be a story about the need to foster or adopt rescue animals.
But as Sign1News multimedia journalist Martha Anger was filming, she spotted a dog that not only captured her attention, it also captured her heart.
If you want more information on adopting Beans or any pet from Maricopa County Animal Care and Control, the website is pets.maricopa.gov or you can send an email to [email protected]
Also be sure to check out the shelters in your area as well.
And if you have any experience with fostering or adopting a deaf or deaf-blind animal, please share your stories with us on our Facebook page.
Your story could help the person who adopts Bean.