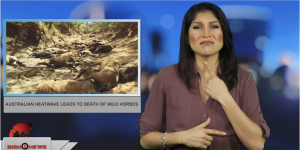 Sign1News delivers news for the deaf community powered by CNN in American Sign Language (ASL).
Transcript
We want to warn you: the images you are about to see are graphic and may be disturbing to some viewers.
The images show dozens of wild horses that died of thirst during a heat wave in Australia.
An advocacy group says horses and other feral animals are dying of hunger and thirst because many reliable water sources have dried up.
The group says it had to euthanize upwards of 50 more horses near a waterhole because the animals were close to death.
Australia has been experiencing a record-breaking heat wave since the start of the year.
Temperatures in one area hit 107.6 degrees for 14 straight days and counting.