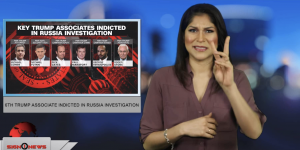 Sign1News delivers news for the deaf community powered by CNN in American Sign Language (ASL).
Transcript
Take a look.
These are the six men with ties to President Trump who have been indicted in Special Counsel Robert Mueller's Russia investigation.
The sixth man, Roger Stone, was arrested and indicted on Friday.
That indictment alleges that during the 2016 presidential campaign, Stone sought stolen emails from WikiLeaks that could damage Trump's political rivals and he did it at the direction of someone prosecutors describe as "a senior Trump campaign official."
Then he later lied about it to Congress.
Stone is charged with one count of obstruction, five counts of false statements and one count of witness tampering.
As Stone walked out of court today, he said he will plead not guilty to the charges and will defeat them in court.
He believes the arrest is a politically motivated investigation.