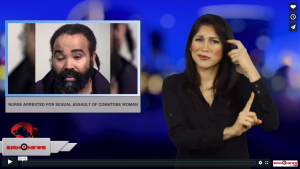 Sign1News delivers news for the deaf community powered by CNN in American Sign Language (ASL).
Transcript
The 36-year-old licensed nurse, Nathan Sutherland, has been arrested on suspicion of impregnating a woman in a vegetative state.
The woman gave birth at a Phoenix healthcare facility on December 29, even though she has been in a coma, for 27 years.
Police were able to identify Sutherland by matching his DNA to the babies.
Sutherland is charged with sexual assault and vulnerable adult abuse.