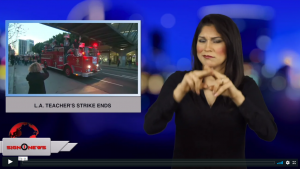 Sign1News delivers news for the deaf community powered by CNN in American Sign Language (ASL).
Transcript
The six-day teacher strike in Los Angeles is over.
30,000 teachers returned to the classroom today after the union agreed to new terms with the school district.
The new agreement includes a 6% raise, a gradual decrease in class-size over the next few years and more counselors, librarians and nurses.
Both sides say this is a historic agreement, but also a costly one.
The first week of the strike cost the school district more than $125 million because California schools are funded by daily attendance and the number of students going to school during the strike plunged.
In fact, some parents kept their students out of school on purpose in hopes that the money drain would lead to a quicker resolution.