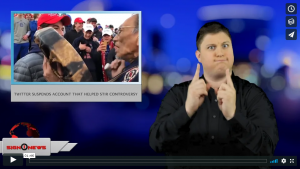 Sign1News delivers news for the deaf community powered by CNN in American Sign Language (ASL).
Transcript
The controversial story about the encounter between a teenage boy and a Native American elder during a DC rally over the weekend keeps getting more complicated.
Now we learned that the Twitter account that made the story viral was fake.
The Twitter account claimed to belong to a teacher in California but CNN Business found the profile picture was actually of a blogger in Brazil.
The username was @2020-Fight.
Twitter says it suspended the account Monday afternoon.
Also the Kentucky high school where the students attended was closed on Tuesday because of safety concerns.
The principle of Covington Catholic high school sent a letter to parents notifying them of threats made to the school and some students.
School officials met with local law enforcement to discuss ensuring the safety of students.