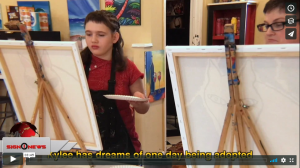 Sign1News delivers news for the deaf community powered by CNN in American Sign Language (ASL).
Transcript
Recently I had the pleasure of meeting an amazing young girl.
Her name is Kylee.
She's the first child we are featuring in our new adoption initiative called Chosen.
Kylee is so kind, respectful, friendly and an incredibly talented artist.
She has spent a long time in foster care but has never lost hope a loving family is waiting to adopt a daughter just like her.
Here is Kylee's story.
To learn more about adoption call 1-877-210-KIDS (5437) or visit www.itsmyturnnow.dhs.ga.gov.
Kylee's ID number is GA-5284A.
And for helpful guidelines on fostering or adopting a waiting deaf or hard of hearing child, visit www.nad.org.