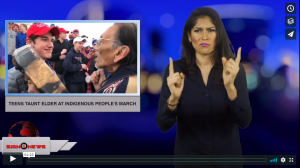 Sign1News delivers news for the deaf community powered by CNN in American Sign Language (ASL).
Transcript
Here is another video that's going viral.
This video is from Friday's Indigenous People's March in Washington, DC.
It shows what looks to be a high school teen, wearing a "Make America Great Again" hat staring down an older man who was drumming.
Other young people surround the two are jeering and chanting "Build that wall!"
Activists say the drummer is an elder from the Omaha tribe and a Vietnam veteran.
An organizer for the march called what happened extremely disrespectful to Native Americans everywhere.
The young people in the video have been identified as students from Covington Catholic high school in Kentucky.
The school says they were attending the annual March for Life which was also taking place that day.
In a statement both the high school and the diocese of Covington say the matter is under investigation and promised appropriate actions against those in the video, including the possibility of expulsion from school.