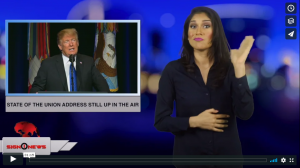 Sign1News delivers news for the deaf community powered by CNN in American Sign Language (ASL).
Transcript
It looks like the President's state of the union address scheduled for January 29 is still up in the air.
House Speaker Nancy Pelosi sent President Trump a letter asking him to postpone the speech or submit it in writing due to security concerns because of the partial government shutdown.
Today Trump responded on Twitter by saying: "Nancy I'm still thinking about the State of the Union speech, there are so many options including doing it as per your written offer made during the shutdown, security is no problem, and my written acceptance.
While a contract is a contract, I'll get back to you soon."
For the record there is no contract between Trump and Pelosi for the State of the Union address.
Since the State of the Union is presented to a joint session of Congress, both the House and the Senate must pass resolutions that invite the President to speak.
Neither the House nor the Senate have passed a resolution inviting the President to speak.