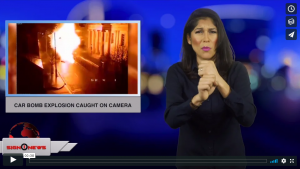 Sign1News delivers news for the deaf community powered by CNN in American Sign Language (ASL).
Transcript
Police in Northern Ireland released this video of the car bombing that shook central Londonderry last night.
It shows a suspect driving up, parking the car in the middle of the street then running away from the scene.
Moments later the car explodes.
Police say it was clear the suspect wanted to hurt as many people as possible.
Fortunately no one was hurt.
Police have arrested two suspects.