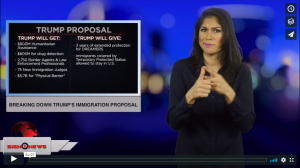 Sign1News delivers news for the deaf community powered by CNN in American Sign Language (ASL).
Transcript
President Trump made an attempt to end the government shutdown last night.
Here's a breakdown of his proposal:
Trump wants $800 million for what he called a "humanitarian crisis" at the southern border, $805 million for new drug detection technology, more border patrol agents, more judges and of course $5.7 billion for a border wall.
In return, Trump offered what he believes will convince some Democrats to support him: three years of protection for Dreamers and three years of protection for individuals with temporary protected status or TPS.
Speaker Nancy Pelosi rejected the proposal which means the government shutdown will continue.