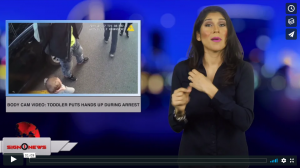 Sign1News delivers news for the deaf community powered by CNN in American Sign Language (ASL).
Images of a barefoot two-year-old girl walking alone towards Tallahassee, Florida police officers with her hands up is going viral on social media.
People were so appalled and disturbed by the image, Tallahassee police decided to release body cam video of the incident to "tell the whole story."
The police arrested a man suspected of theft.
He was order to get out of his truck with his hands up and walk towards them.
Unexpectedly the toddler climbed out of the truck and imitated her father by walking towards the officers with her hands raised as well.
On the video you can hear the officer comforting the child saying "You're okay sweetie, put your hands down, everything is all right, go to mommy."
Police say the video demonstrates the importance of body cams to provide a different perspective on the same incident.