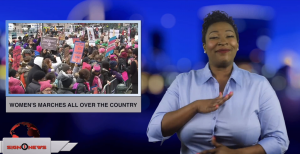 Sign1News delivers news for the deaf community powered by CNN in American Sign Language (ASL).
Transcript
Thousands of women took part in women's marches across the nation Saturday.
Marches were held in Washington DC, Los Angeles, San Francisco, Seattle and Boston.
Organizers in Austin, Chicago, New Orleans, Cincinnati and Atlanta hosted marches for the past two years but did not plan them this year.
The national started in 2017 is a protest against President Trump.
The first one women's march in Washington, DC was held on the day after Trump's inauguration.
It was the largest single day protest in US history!