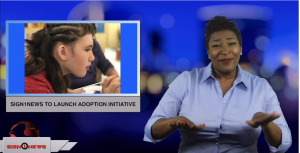 Sign1News delivers news for the deaf community powered by CNN in American Sign Language (ASL).
Transcript
According to the Adoption Network, there are over 100,000 children in foster care ready to be adopted.
Roughly 60 percent of those children will spend 2 to 5 years in foster care before getting adopted.
Sadly some children will never get adopted.
Sign1News news is committed to helping change those statistics.
Starting this coming Tuesday, January 22, we are launching our adoption initiative entitled "Chosen: A Family Connection."
We will feature the stories of children like 13-year-old Kylee.
She's been in and out of foster care most of her life and she gets teased by kids at school because she wears a hearing aid and speaks differently.
Be sure to tune in on Tuesday, January 22 to learn more about Kylee and about the adoption process.