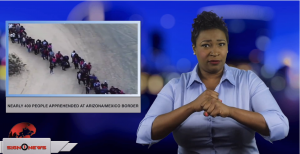 Sign1News delivers news for the deaf community powered by CNN in American Sign Language (ASL).
Transcript
The US Customs and Border Protection released video Friday showing nearly 400 migrants being apprehended at the border in Arizona.
The group entered the US near the Yuma sector checkpoint by crawling under one of seven holes they dug to tunnel under the border fence.
The group was made up almost entirely of families from Guatemala.
It included 176 children under 18, 30 of them were traveling alone without adult supervision.