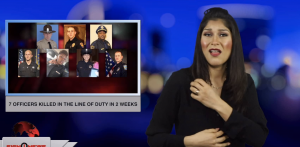 Sign1News delivers news for the deaf community powered by CNN in American Sign Language (ASL).
Transcript
2019 has just begun but we're already seeing a long list of law enforcement officers killed in the line of duty.
Seven lost their lives in under two weeks.
Authorities say officer Natalie Corona of the Davis California Police Department was ambushed responding to an accident.
Two weeks later on January 9th in Shreveport, Louisiana, officer Chateri Payne was shot heading to work to begin her shift.
Forty-four-year-old Sergeant Wytasha Carter of the Birmingham Police Department was shot and killed early January 13 when he encountered two men breaking into vehicles.
Twenty-nine-year-old Provo Utah officer Joseph Shinners was the first police officer to died this year.
He was shot and killed January 5 during the arrest of a wanted fugitive.
Forty-six-year-old Dale Woods of Colerain Township, Ohio died January 7 working on a crash scene.
He was moving a traffic cone when he was struck by a pickup truck.
Salt River police officer Clayton Townsend died on January 8 in Arizona.
He was struck and killed by another car as he approached a vehicle he just pulled over.
The driver who hit him admitted to texting and driving.
And Illinois state trooper Christopher Lambert was struck and killed by a vehicle while he was assisting with a car crash on the side of the road.