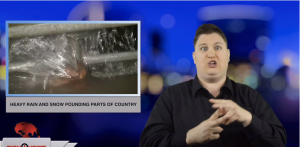 Sign1News delivers news for the deaf community powered by CNN in American Sign Language (ASL).
Transcript
A blast of winter weather is starting to crawl across the country.
An intense storm is causing problems on the East Coast right now and residents in the central and eastern parts of the US will need to bundle up.
Southern California, which still hasn't fully recovered from last year's wildfires, is getting bombarded with heavy rain.
The Lake Elsinore area is among those getting drenched.
Numerous flash flood watches have been ordered in the region and officials did advise some residents to evacuate.
Blizzard conditions are blanketing the Sierra Nevada mountain range.
Some areas can see up to 6 feet of snow.
The Coast Guard is warning the public to be extra cautious along the northern California coast, saying wind gusts could reach 65 mph.
The central and eastern sections of the US could also brace for snow and frigid conditions.
And the National Weather Service says temperatures in the northern plains won't rise above freezing on Friday.
At about 25 degrees below normal for this time of year.