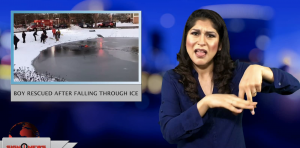 Sign1News delivers news for the deaf community powered by CNN in American Sign Language (ASL).
Transcript
Check out this dangerous rescue caught on camera Sunday in Illinois.
It happened after a 911 caller reported a child who had fallen through the ice on a retention pond at an apartment complex.
First responders were on the scene within minutes.
The 11-year-old boy told them his feet were stuck in mud on the bottom of the pond.
Crews tossed him a rescue disk attached to a lifeline.
Then a dive team member plunged into the ice-covered pond and swam out to the boy, pulling him to safety within four minutes of arriving on the scene.
The child was hospitalized in stable condition.